"I wear my Submariner to every event that I have put together," says Sneh Diwan, smiling. Diwan is sitting at The Hoxton in Paris, connected over a Zoom video call with me - on her vacation no less - and even over the din of the common area of the hotel, the joy she feels for this wristwatch is palpable. "It is my lucky charm," she adds. "It was the first Rolex I ever owned, gifted by my husband. I had recently become a certified diver and it was right around the time I was starting my event planning business. I wore this watch to the first wedding I ever coordinated, and since then have worn it to every event I have planned. It has become a part of me. It's like my shield. And because style is so important to me, it completes my all-black outfit," she says.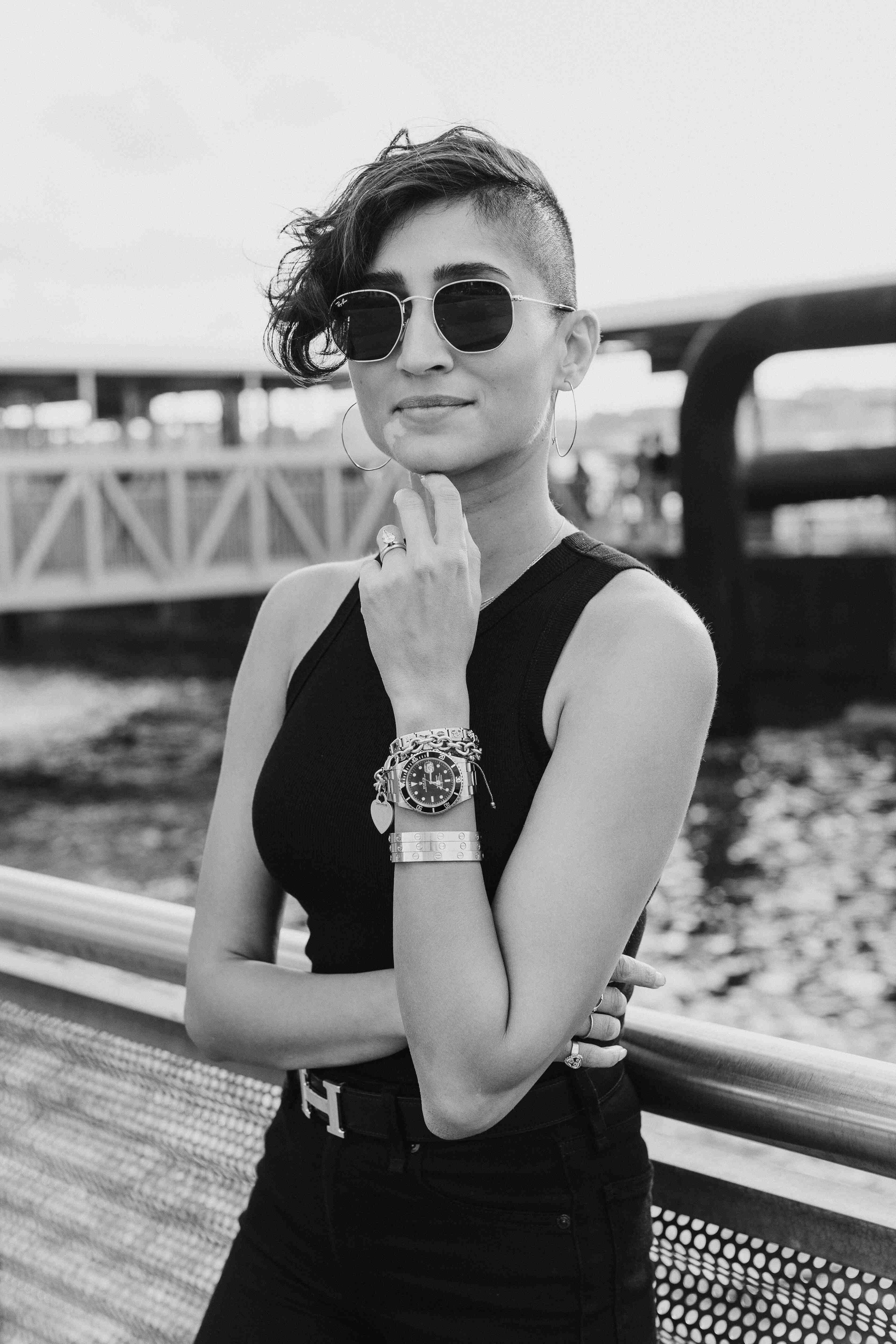 Sneh Diwan, wearing her 'lucky' 1999 Rolex Submariner Ref. 16610. Image: Courtesy Jose Melgarejo
The 40mm steel, black dial 1999
Submariner
is one of the several watches that mark Diwan's small but telling collection. "All my watches are very meaningful to me. They have marked important, emotional points in my life, and tie into how I am as a person, and the things and experiences that I value," says Diwan, 36, who is based in Jersey City, New Jersey, and is the founder of
Diwan By Design
, a boutique creative agency offering event planning, destination event planning, day-of coordination, and styling services.
Diwan's collection includes 1998 Rolex Explorer II Polar, a vintage gold Rolex cocktail watch, a Cartier Santos given to her by her father, a Seiko x Rowing Blazers edition, a Casio Classic Calculator Watch in gold and silver, and several G-Shocks. Of these, Diwan's most prized possession is the dual-toned steel and gold
Cartier Santos
that was originally her father's. A white dial watch, it was passed on to her on her 21st birthday. "He gave it to me right off his wrist," says. Diwan."My father and I have always had a special bond growing up, sharing our love for sports, having our father-daughter dinners, and our love for watches. The Santos was a testament to his hard work, and him giving me that watch right off his wrist even more special because he worked hard to get it. And he wanted me to have it and enjoy it."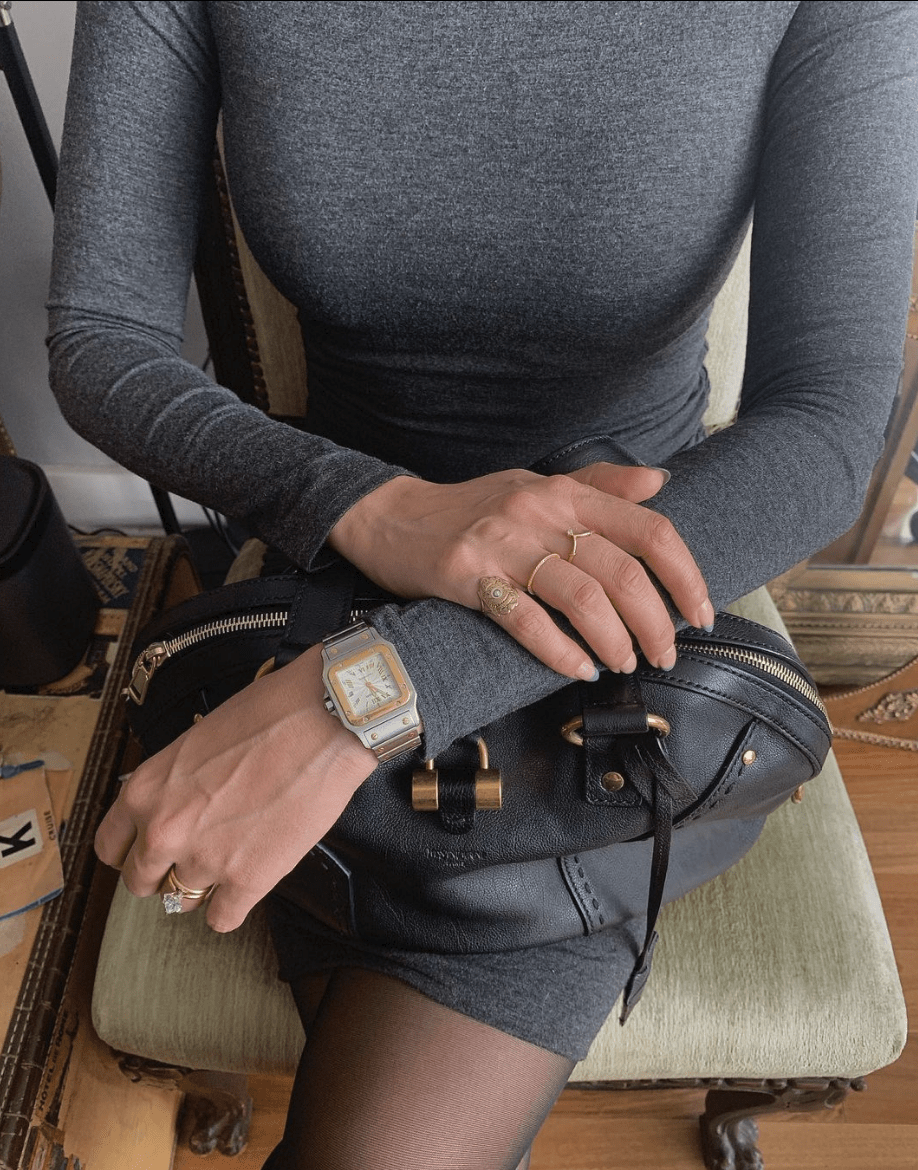 The dual-toned steel and gold Cartier Santos that was originally her father's
It's almost as if Diwan has purposefully put together a collection that has a strong emotional connection, but in reality this has happened seamlessly over the past many years. It is also something perpetuated to a large extent by her husband, who himself is a collector. Case in point is the Rolex Explorer II Polar 16750, which she acquired in October last year. "I am truly attracted to the sports models, and I tend to lean into a black dial more often than a white one. We were walking around in the city and came across the Explorer II, so I tried it on. I didn't love it at first because of the white dial, but then I researched it. I also kept seeing it everywhere - in fashion magazines, Hodinkee wrote an article about it also – and it was like the universe was telling me something. I was coming off a truly intense year of weddings and my birthday was a few weeks away, so my husband got it for my birthday!"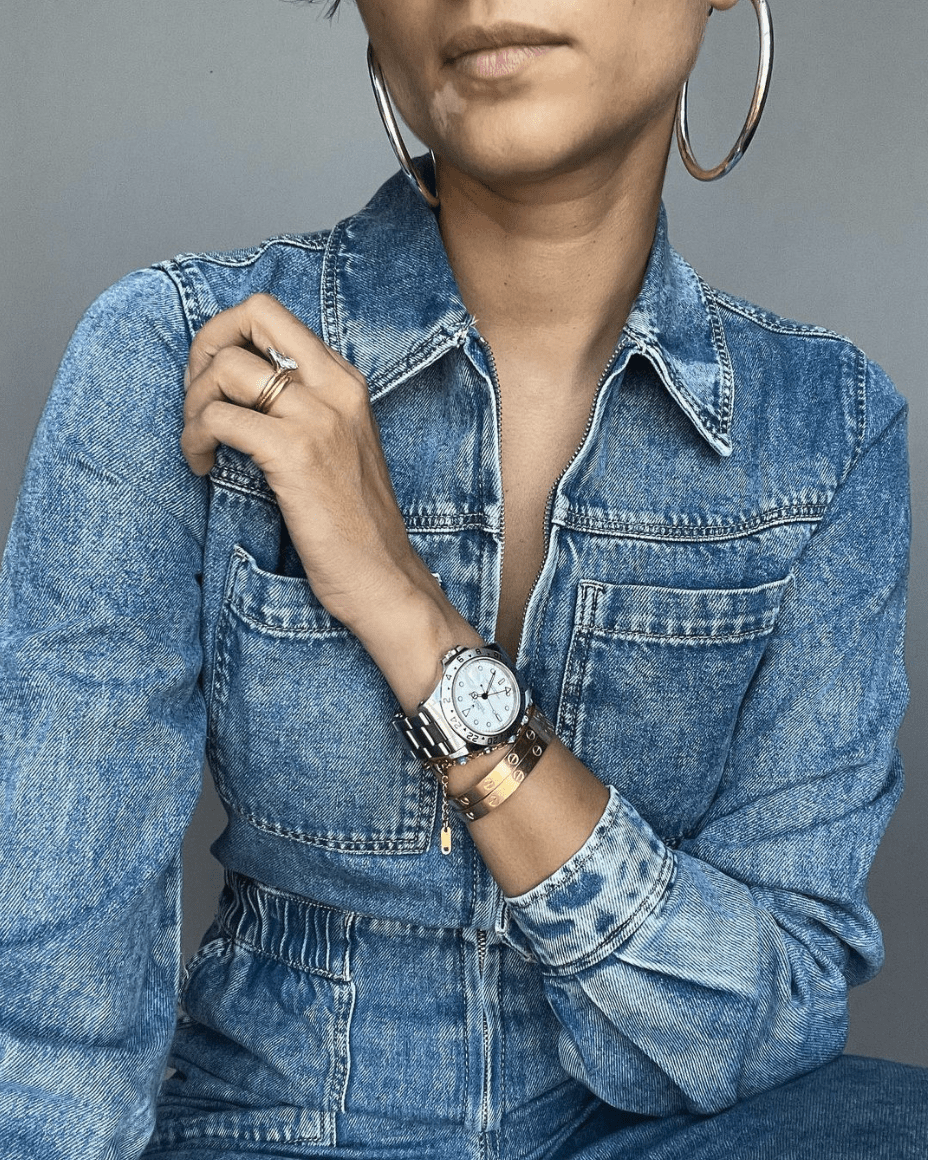 Wearing the 1998 Rolex Explorer II Polar
Diwan's love for watches started young. As far back as she can remember, she has loved timepieces. Even in middle school and high school, she would wear her
Casio
Calculator - it broke recently and she was devastated. "Watches are a piece of me, and I don't ever leave home without one. It's a way to describe my style that can't be put into words," says the Fashion Institute of Technology graduate. "Back in the day, it was a way for me to stand out without trying too hard. I loved how it made me feel."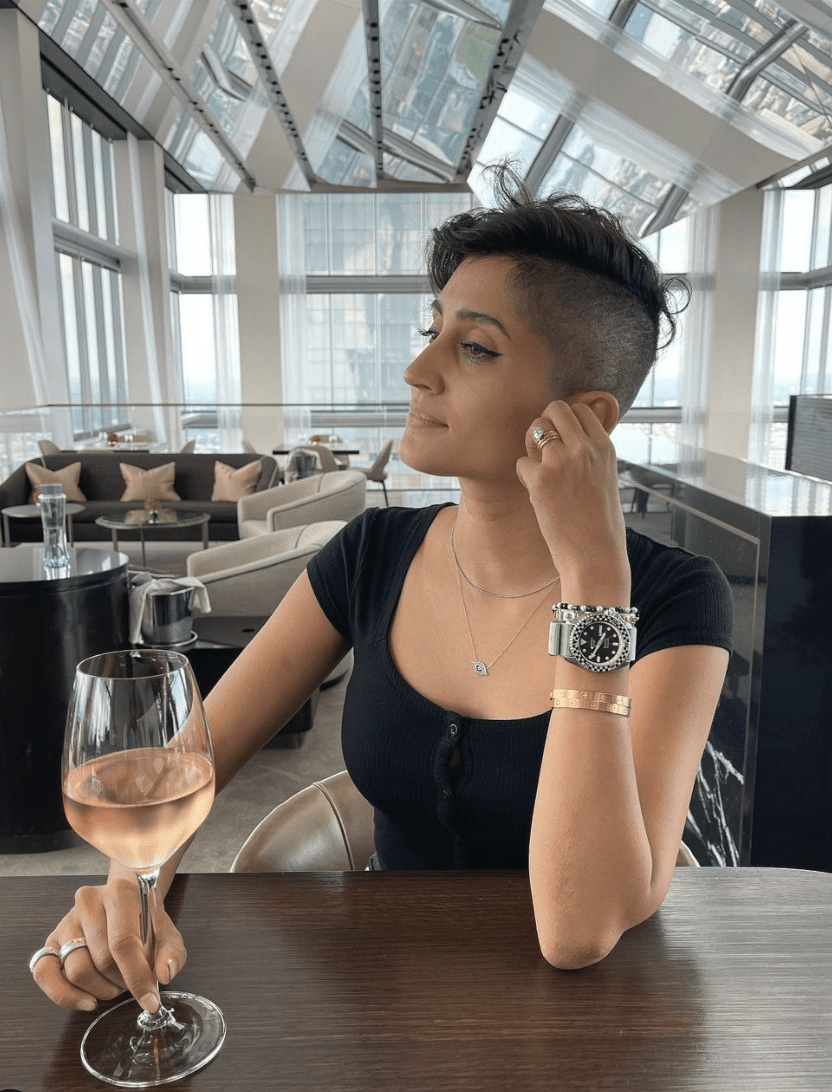 Diwan's Seiko x Rowing Blazers watch
That watches are a part of her personality is very evident in how Diwan wears her watches. Flaunting mostly bold, chunky, sporty pieces, she stacks them with various bangles and Cartier's Love bracelets, and captures it perfectly for Instagram. Style is an important part of her life, an extension of who she is, and this aesthetic plays into her rocker-chic vibe. "I love a stacked wrist. Plus, I prefer black dials and yellow gold. I'm not a girly dresser - you won't find me in dresses or skirts - so black is the perfect accompaniment."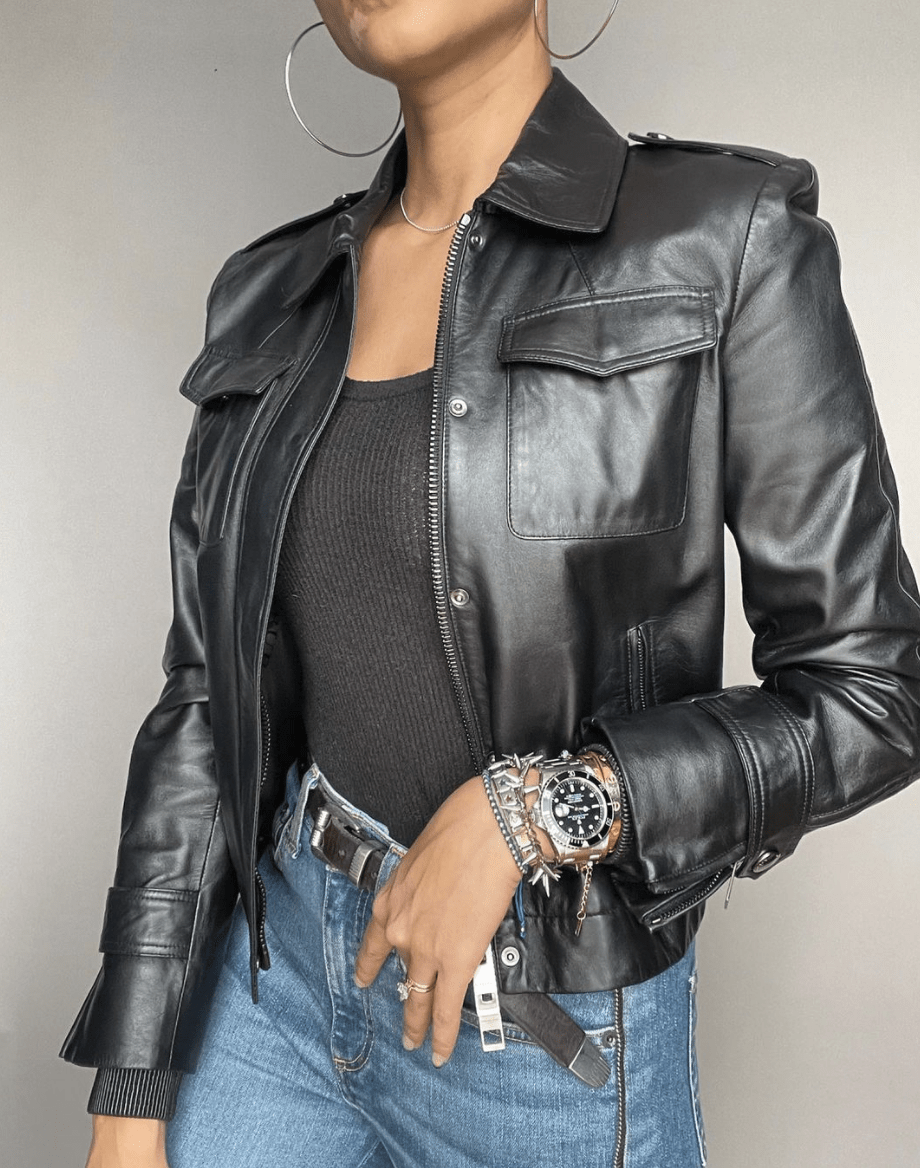 Her love for watches plays into her rocker-chic style
Part of Diwan's work is creating beautiful weddings – as a wedding planner, she translates the visions that couples have for their dream nuptials into realities. She even helps couples decide what their wedding watches could be. "A lot of couples are getting into watches, and I love hearing their thoughts on it. We talk about what they like, and I give them ideas and guide them to a watch they might enjoy."
Diwan is drawn to stories and histories. "I love hearing people's stories; for me, life is a story. Sometimes I feel that's why I got into wedding planning. I love reading and sports because I get the know the stories of how athletes got to where they are. That is so beautiful." In that same way, she likes the story that a watch tells. She buys only pre-owned watches and enjoys the fact that her watches have their own past. Scouring online stores like eBay,
Material Good
,
The RealReal
; smaller consignment shops; and visiting vintage watch shops like Menta watches, allows her to not just enjoy timepieces but also find old designs that could appeal to her.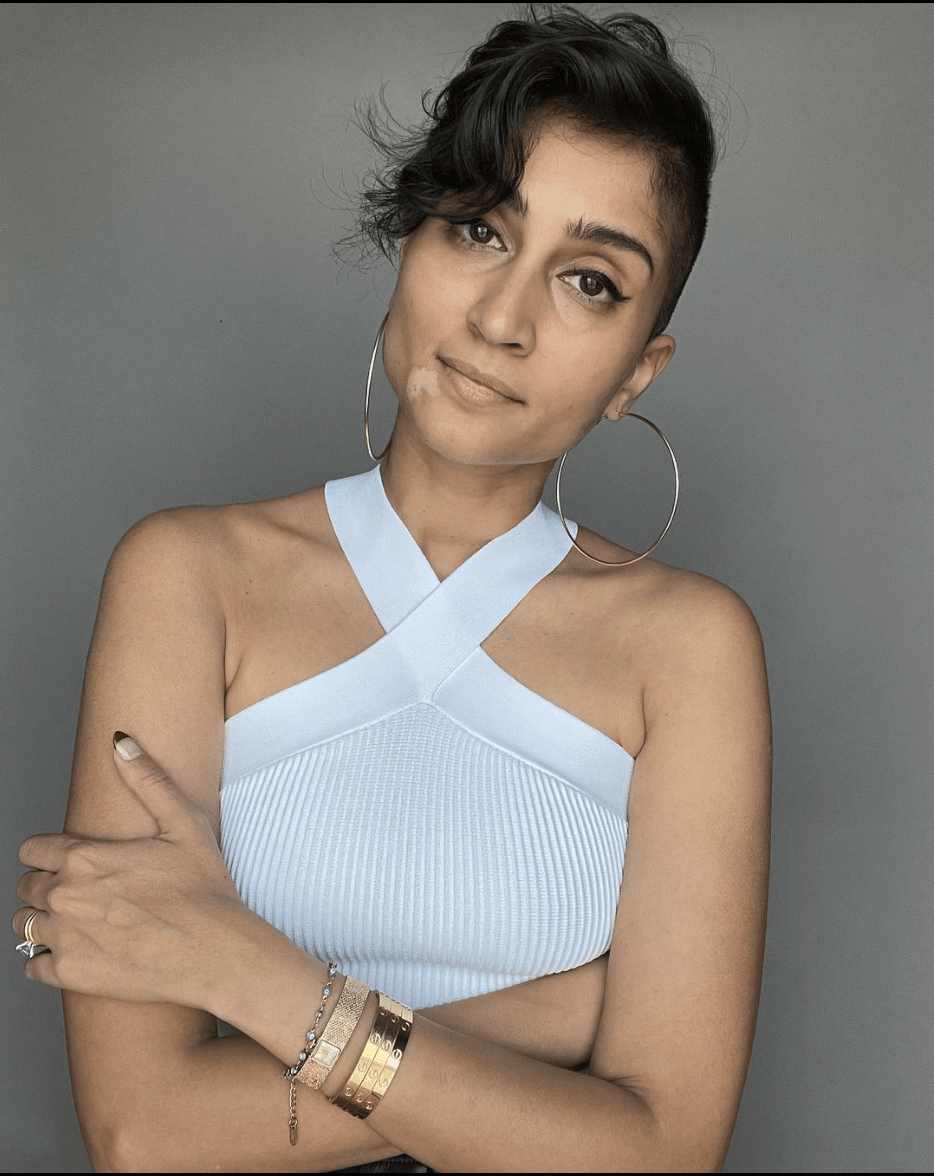 Wearing a vintage gold Rolex cocktail watch
It helps that Diwan belongs to a family of watch lovers. Her father has a Cartier Tank Solo (a birthday present from her and her mother), and a rose gold
A. Lange & Sohne
Saxonia Dual Time, which he bought in Germany, apart from a Rado, Longines, and Chopard. Her mom, with a more elegant taste in watches, has a Cartier Tank and Longines. But the most influence comes from her husband. "He is a crazy watch collector. We both love window-shopping for watches and notice others people's watches when they walk into a room and quickly discuss how cool that person is!" she laughs. Amongst the watches they own are a Cartier Ronde, Rolex Daytonas, and Rolex Day Date, and a Rolex Daytona Zenith 16520 with a white dial, which Diwan gifted him on their wedding.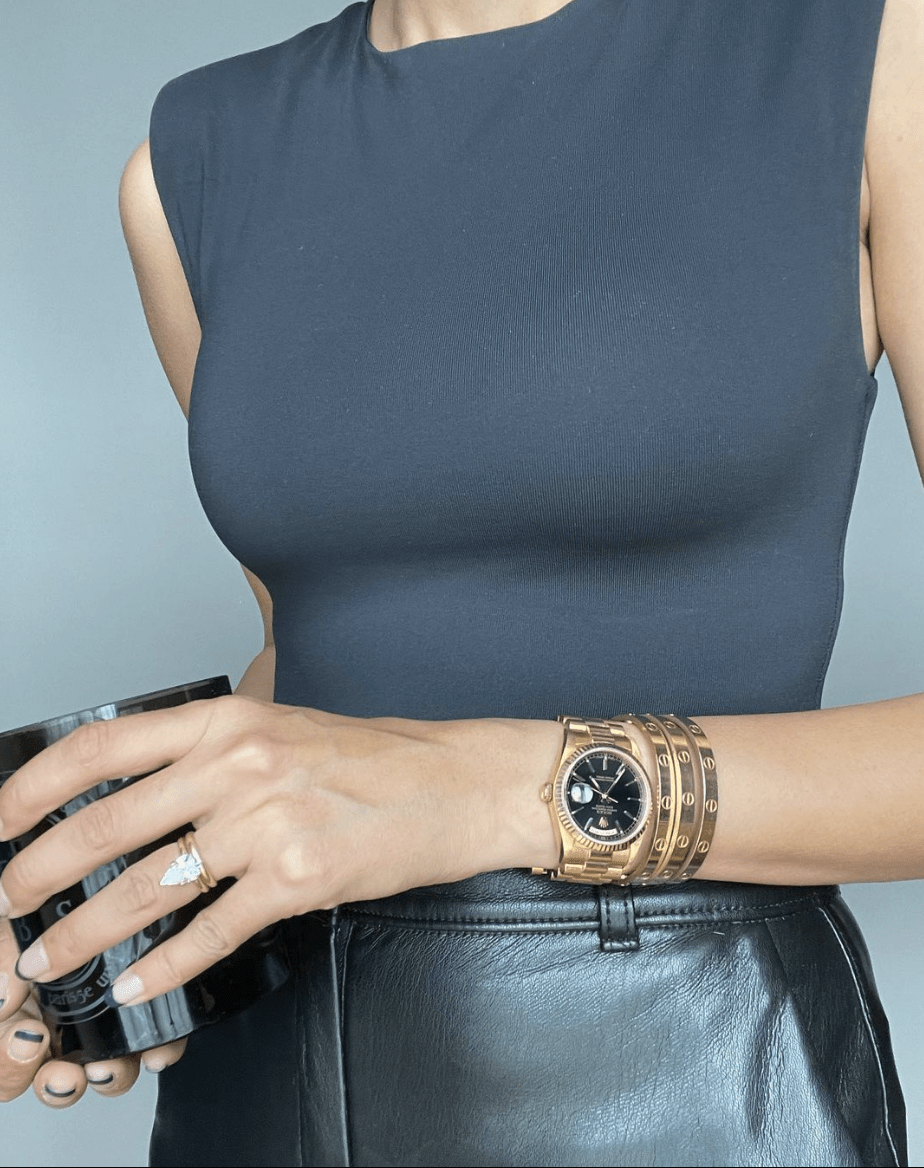 The Rolex Day-Date that Diwan shares with her husband
Diwan is clear that she is a watch enthusiast and not a collector. "In terms of the technology and mechanics and history of a watch, I feel there is so much that I still need to learn, and that is an important reason why I wouldn't call myself a collector." But that doesn't mean that she is not aware of what she wants from her watches. "I love a GMT / dual timezone function. So much of my work is across different timezones that that functionality is a special part of picking a watch. Then of course, how it feels on my wrist. I have a small wrist so I prefer to feel the watch – that is why buying a watch online is not my go-to. What she does buy online are straps. Diwan loves to shake up how her watches look, buying new straps from Hodinkee or Ralph Lauren Double RL.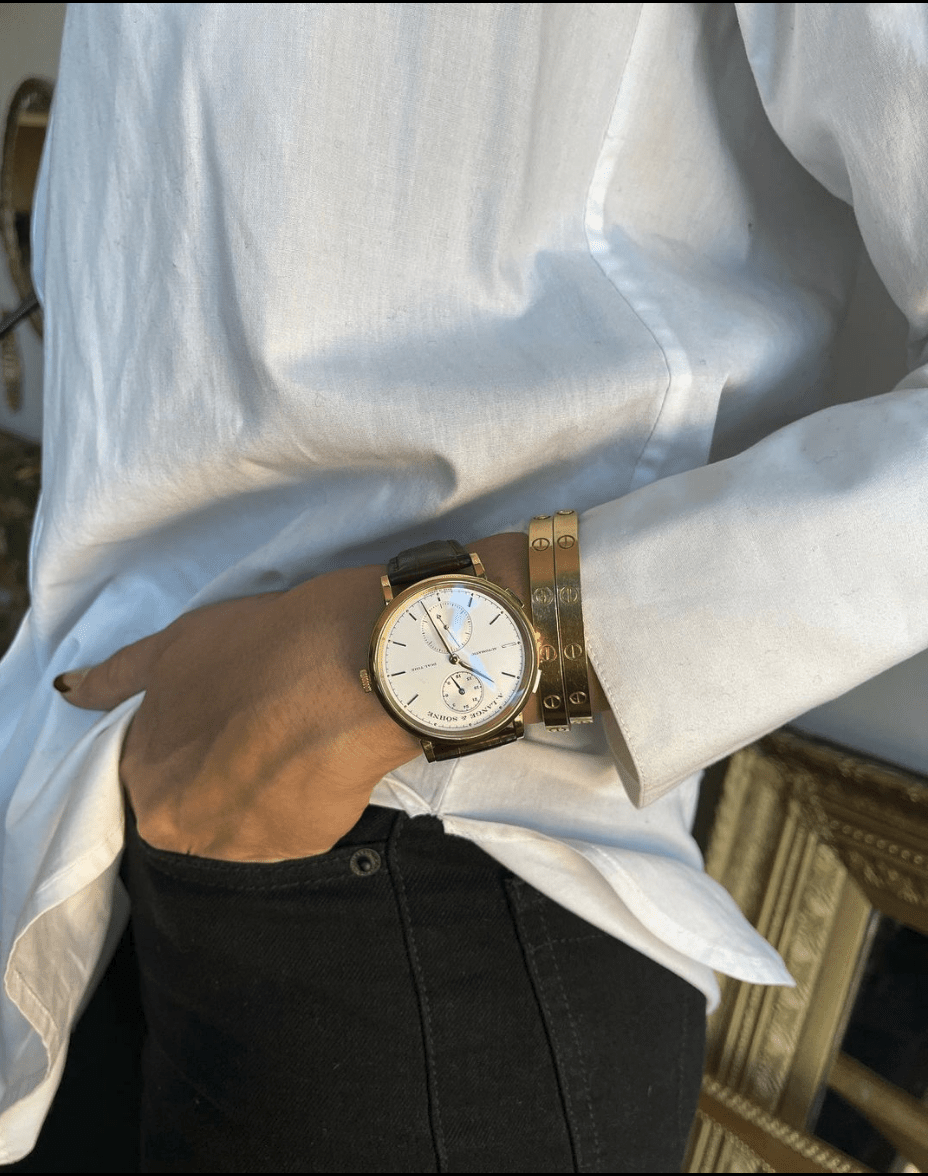 Wearing her father's A. Lange & Sohne Saxonia Dual Time
Not being a watch collector in the typical sense of the term has allowed Diwan to really break down here requirements from a watch before he picks it up. "I'm looking at a watch for many different reasons. I don't plan to resell any of my watches and hope that they will pass down the generations. I am also looking at them for their purpose. Am I wearing it to showcase my style, am I wearing it because it is a trend, or is there something I connect with in the piece? Ultimately, can I afford it? There is also an emotional investment because I plan to wear that watch for 10-20 years. So, it certainly takes me longer to decide on a watch."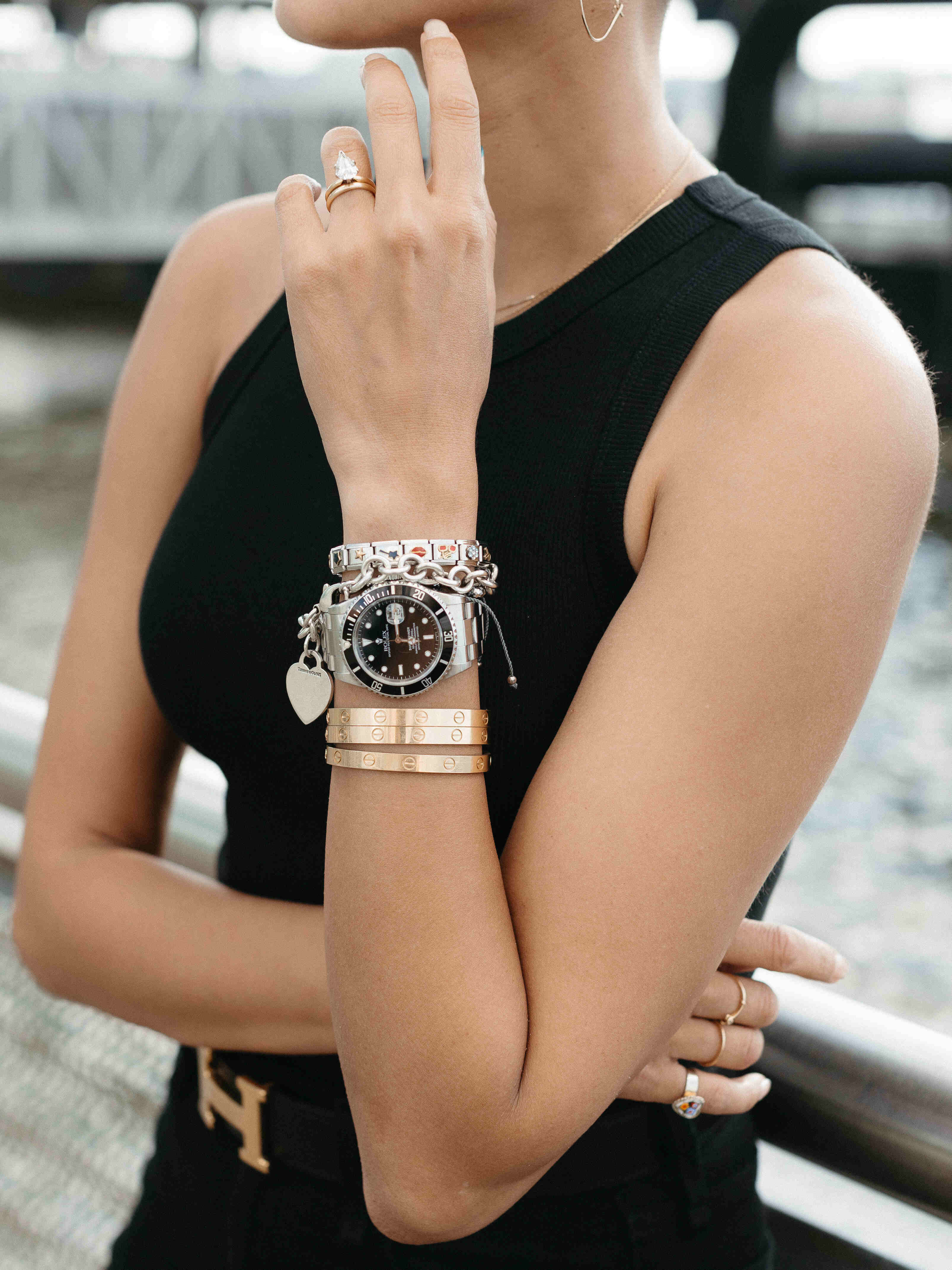 Diwan enjoys a stacked wrist, pairing her watches with different accessories. Image: Courtesy Jose Melgarejo
Her next purchase is the Tank Louis Cartier, and she is awaiting her black dial in a yellow gold model. "My love for Cartier began when my dad gave me his Cartier Santos. Both he and my mother own a Cartier Tank and I always borrowed their watches. So, when this watch was released, I just fell in love with it. The complete black dial, the gold case. This watch does something different to my collection, which is mostly sports watches. It is very versatile - I see it being worn with an evening gown or even jeans and a T-shirt. I am getting older and my style is evolving, and this is the next step. Plus, it is a true classic."
Images: Courtesy Sneh Diwan (except where specified)